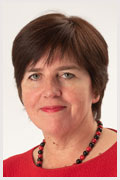 Associate Professor Chris Hemmings
BHB, MBChB, FRCPA, AFRACMA, FNZSP, FFScRCPA, PhD
Chris is a graduate of Auckland medical school and completed postgraduate training in pathology in Auckland and Christchurch.
She then worked in Australia for 15 years, returning to CDHB in 2018.  She is Director of Anatomic Pathology at Canterbury Health Laboratories and serves on a number of committees related to pathology and cancer, including the Clinical Assembly of Te Aho o Te Kahu, the Council of Medical Colleges, the Medical Testing Professional Advisory Committee of IANZ, the RCPA Cancer Services Advisory Committee and the Scientific Advisory Committee of AGITG.
She is Bowel Screen Lead Pathologist for Canterbury and West Coast DHB's and the reference pathologist for neuroendocrine tumours for the South Island, and currently serves as RCPA Vice President (NZ).  Her main clinical and research interests are in the fields of gastrointestinal pathology, rare cancers and tumour biology, and her PhD studied radiation response in locally advanced rectal cancer.