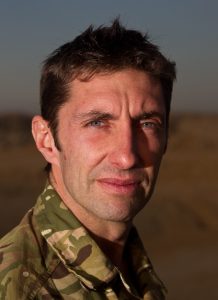 Rhys Thomas
Born in Llandeilo, Wales and speaks the language of heaven. Trained at the Royal Free Hospital, London and qualified in 1995. Joined the Army in 1999 after a period of time working in Emergency and Critical Care in Cairns, Australia.  Started life in the Parachute Regiment after completing 'P' company selection for Airborne Forces and stayed in the Airborne Brigade until retirement.  Completed 13 operational tours including deployments to Northern Ireland, Sierra Leone on Op Barras, Iraq on Telic 1 and 7 tours to Afghanistan on Jacana and Herrick 8 and 10,11, 13 and now recently retired.
His main specialist interest is Trauma, where he completed an arduous Trauma Fellowship at the world-renowned R Adams Cowley Shock Trauma Centre, Baltimore.
Within trauma his interests have been Massive transfusion and trauma coagulopathy. He developed the military concept of Damage Control Shock Resuscitation and is the co-author of the Military's Massive Transfusion algorithm and has published articles on the subject in the Journal of Trauma and acute Care Surgery, British Medical Journal, Journal of Current Opinion in Critical Care and British Journal Of Anaesthesia, and editorial in on Injury
Worked for 5 years as an Honorary Consultant at the Royal London working in the Trauma unit and Queen Victoria's Hospital East Grinstead specialising in Burns, Plastic and difficult airway anaesthesia. Taken up a new challenge of developing Pre-hospital Critical Care & Trauma Care in Wales. Successfully co-wrote and delivered the business case on behalf of NHS Wales with Dr D Gill.  This involves for the first time in the UK a Nationally delivered Pre-hospital Critical Care Service by land and Air. Bringing in all the developments from the military and civilian environments including blood and clotting products as well as advanced diagnostic equipment in blood gas, Ultrasound and thrombo-elastography. The new service successfully went live April 27th 2015 and won the Gold Medal for British Pre-Hospital delivered health care in 2016 and 2017.
His research interest is the Use Of Erythropoietin in Trauma/Blast and haemorrhage which formed the basis of his successful MD thesis and Honorary Senior Clinical lecturer at the University of Swansea.
When he is not doing medicine, you can usually find him running, swimming or cycling. He has regularly competed Nationally and Internationally including a 7th fastest UK finisher at the Iron Man World championships Hawaii 2006 and a 5th at the European Triathlon Champs and a top 10 at the Worlds Age Group Triathlon Championships.  Not happy with just doing Triathlons he has completed many Ultra-Marathons including Marathon De Sable and the Dragons Back Race.  He has recently started a career in politics and can be seen out on the campaign trail hoping to win a seat at the next General Election.