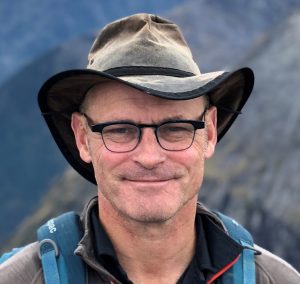 Adrian Secker grew up in Christchurch, and returned there for most of his surgical training. He returned to New Zealand in 1998 after two years in the UK at the Norfolk and Norwich Hospital, to work in Nelson as a general surgeon with special interests in colorectal surgery, paediatric general surgery and endoscopy.
He is the Nelson Marlborough DHB endoscopy clinical lead, and has been clinical lead for the NMDHB National Bowel Cancer Screening Program since its inception and rollout in 2018. He is a member of the National Bowel Cancer Working Group, and an examiner for the General Surgical Court of the Royal Australasian College of Surgeons.
His happiest place is with his wife and four children; away from work he may be found on a bike, on a hill, or at his piano.