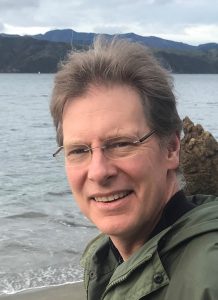 Andrew Parker is a consultant neurosurgeon based in Wellington. He studied medicine in East London and trained at variety of grim institutions across the capital.
Having missed out on a gap year as a student, he resolved instead to have a gap life. He arrived in New Zealand 15 years ago and never looked back. Outside the hospital, you're most likely to encounter him on a ski slope or a tramp. He has particular interests in neuro-oncology, the teaching of surgical skills and terrible British automobiles. The only thing more primitive than the car he drives are his operative techniques.
~~~~~~~~~~
Treating Intracranial Haematomas in a Regional Hospital. Could You? Should You?
Expanding traumatic intracranial haematomas can present an immediate threat to life for patients of all ages. Although usually treated by neurosurgeons, the unforgiving pathophysiology and the unique geography of New Zealand do not always allow for timely specialist intervention. Patients with a unilateral fixed dilated pupil, a deteriorating coma score and a CT scan confirming either an acute extradural or chronic subdural haematoma should be considered for emergent surgical decompression locally as this may represent their best chance of survival. Such procedures, requiring rapid access to a body cavity with haemostasis, are the very essence of surgery and any general surgeon wishing to acquire and deploy such skills should be commended.