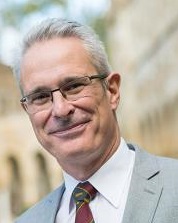 Mark Midwinter is a general surgeon with subspecialty interest in upper GI / hepatobiliary and pancreatic / Trauma and Acute Care Surgery. He trained in UK in Newcastle, London, Manchester and Oxford.
After graduating in medicine (BMedSci Hons, MBBS) he obtained his MD (research) with thesis examining the utility of endoscopic ultrasound in diagnosis and staging of pancreatic cancer.
He joined the Royal Navy in 1992 and served both at sea and on land with the Royal Marines seeing active service in the former Yugoslavia, Iraq, Afghanistan and Somalia / Indian Ocean.
He was appointed Defence Professor of Surgery working in the UK Defence Medical Services and the University of Birmingham. He moved to Australia with his family and worked as Staff Specialist in General Surgery in Bundaberg before recently moving to Brisbane taking up the position at UQ as Professor Clinical Anatomy.
Research interests include trauma and damage control resuscitation; the microcirculation; the endothelium and endothelial glycocalyx; muscle mass and blast injuries. Further details of Mark's research can be found at : https://researchers.uq.edu.au/researcher/15890