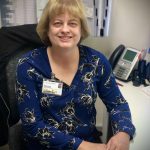 Dr Susan Gerred is a Breast and General Surgeon at Waitemata DHB.
Susan is a New Zealand trained surgeon. She has been the head of the diagnostic breast service at WDHB for the last five years. She is passionate about improving the service which currently involves a new breast clinic opening in 2021, local delivery of chemotherapy, and promoting advances in technology. She is the chair of the regional model of breast cancer care, and has served on the regional cancer governance group. She is also supervisor of training for general surgery at WDHB, and responsible for the Healthpoint website.
When not working she likes to spend time with her son, walking around Cornwall Park, swimming, and catching up with friends. She is also exploring yoga for beginners.
~~~~~~~~~~~~~~~~~~~~~~~~~~
Taking the Hook out of Breast Surgery
Hookwire localisation of breast lesions was first introduced in 1965. Screening has led to an increase in the number of impalpable breast lesions requiring localisation. The options for localisation in 2021 will be covered along with the reasons why we are still using a technique that is now over 50 years old.